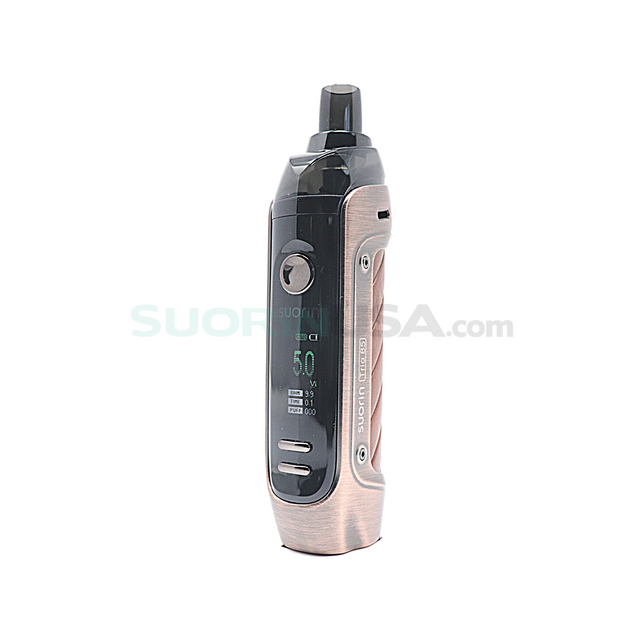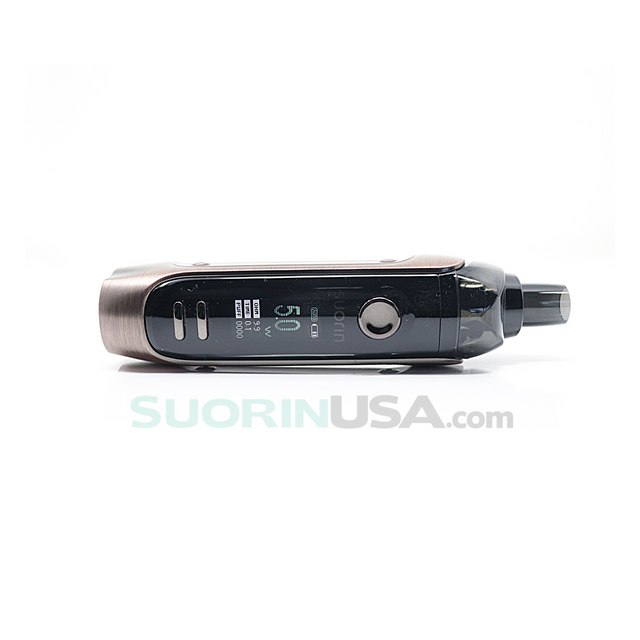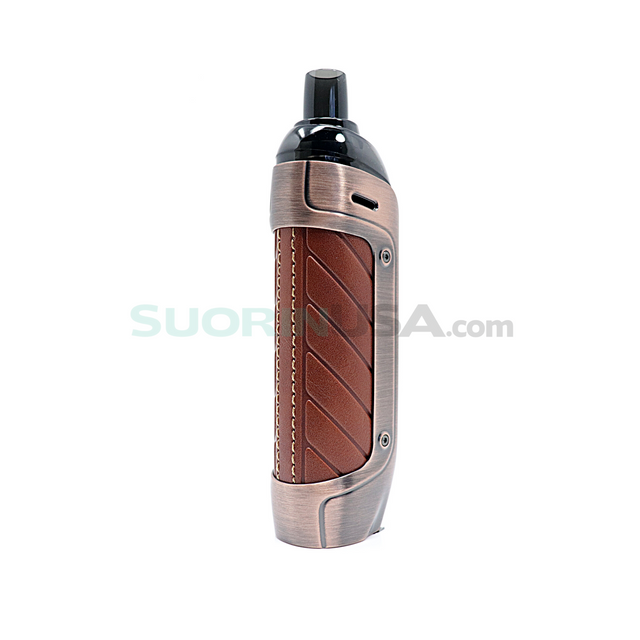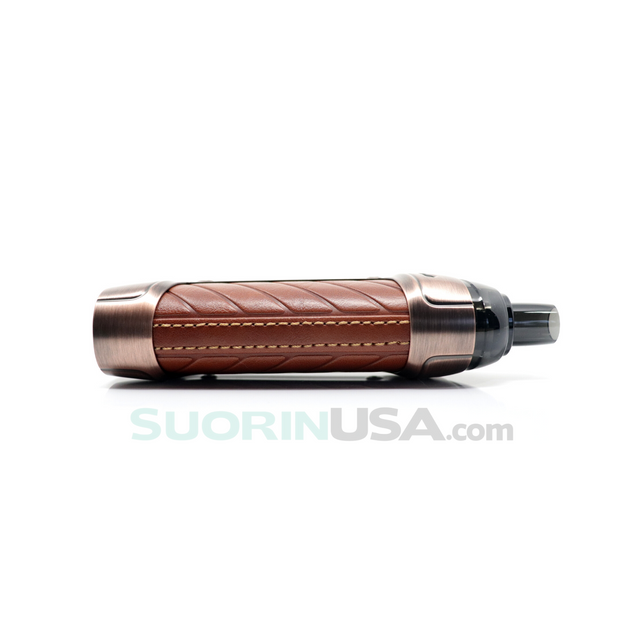 by Suorin
Suorin Trio85 - Pod System Kit 85W - BRONZE
Suorin Trio85 Pod Mod Kit
Presenting the Suorin Trio85 eighty-five-watt kit.  This Pod Mod kit ranges from 5 to 85 watts and holds up to 5mL's of your favorite ejuice. The pod housing has five different variations of Trio 85 replacement coils (TRI Single Mesh 0.6ohm, TRI Triple Mesh 0.20ohm, 0.4ohm TRI Single Mesh coil, 0.2ohm TRI Triple Mesh coil, TRI Single Coil RBA).
The mod is constructed using durable zinc-alloy and comes in a wide variety of colors. Incased in the chassis of the Suorin Trio85 is the protected ORI chipset as well as encasing a single high-amp 18650 lithium-ion battery.
On top is the 5mL pod which houses the preferred coil.  The pod housing and coil are both replaceable. The pod is bottom-filling and includes a silicone stopper plug to prevent any juice leakage.
This pod system is designed to give you larger clouds than any other model of Suorin.  With that said, the delivery from the trio85 coils will also provide for a higher clarity of flavor.
What's more is that the coils offer adjustable airflow also the battery drains at an output which remains constant.
With a larger battery you can enjoy more longevity that any other Suorin models.
Available in the following color sets:
Red
Black
Blue
Brown
Bronze
Silver
Aurora Blue
Red Flame
Lizard Grain
Emerald Green
Prism Blue
Features:
Dimensions - 122mm by 35mm by 29mm
Wattage Output Range: 5-85W
ORI Chipset
Voltage Output Range: 3.3-4.2V
Single High-Amp 18650 Battery - Not Included
Constant Voltage Output
0.96" TFT Display Screen
Single Firing Button
Zinc-Alloy Chassis Construction
Two Adjustment Buttons
0.2ohm TRI Triple Mesh Coil
0.4ohm TRI Single Mesh Coil
5mL Refillable Pod Capacity Housing
Bottom Fill System - Silicone Stopper
Short Circuit Protection
Open Circuit Protection
Snap-In Pod Connection
Press Fit Coil Connection
Low Voltage Protection
Overcharge Protection
8S Overtime Protection
Type-C Charging Port
Package Content Includes:
1 0.2ohm TRI Triple Mesh Coil
1 0.4ohm TRI Single Mesh Coil
1 Suorin Trio 85 Pod Housing
1 Suorin Trio 85 Mod
1 User Manual
Please be sure to prime each coil properly before use.
Click Here for the Suorin Trio85 Replacement Pod Cartridges & Coils
Click Here for the Suorin Type C USB Charging Cable Line
Click Here for the Suroin Trio85 device color options
Click Here for BATTERIES to the Suorin Trio85
Click Here for Battery Charger for the Trio 85
Click Here for Portable Battery Charger for the Trio 85